Whatsapp, the most popular IMS(instant messaging app) for Android, had ticked by a decade in Jan 2019. In this journey, Whatsapp has been going through a lot of changes. Especially after owned by Facebook Whatsapp has been updating and embracing new features at a good pace. Therefore many of us likely missed some of its latest and useful features. In this post, I will share 12 rare known features of Whatsapp for Android devices.
List Of Features[Android Only]:
1. Stop Auto Downloading:
Whatsapp automatically downloads all the received media files such as photos, videos, etc. whenever you click on it. Sometimes this may consume extra phone memory as well as mobile data. But the enticing thing about Whatsapp is that it leaves an option to stop it manually. To stop auto-download feature Android users can follow the steps given bellow
Open Whatsapp's main windows(where all chats are displayed) and head on the three vertical dots at the top of the right. Then navigate to Settings.
Now tap Data and storage usage. Here you will see three options under Media auto-download. Those are When using cellular data, When connected on Wi-Fi and When roaming. Tap each one and disable auto-downloads by unchecking all four options- Photos, Audio, Videos, and Documents.
2. Stylize the Text:
Whatsapp brings this feature to make your chat more animated. It lets you stylized the default font to bold, italic, strikethrough or monospace. Additionally, you can also use the combination of these fonts simultaneously. So you don't have to glue with the default boring font while you're chatting. To stylize the font you've to put some symbols after and before a sentence or a word like below
Bold: To bold your message, place an asterisk on both sides of the text, like *Hello* so text will be like Hello
Italic: To italicize your message, place an underscore on both sides of the text, like Hello.
Strikethrough: To

strikethrough

your message, place a tilde on both sides of the text, like ~Hello~ so your text will be like this Hello
Monospace: To monospace your message, place three backticks on both sides of the text, like "`Hello"` so the text will be like this Hello.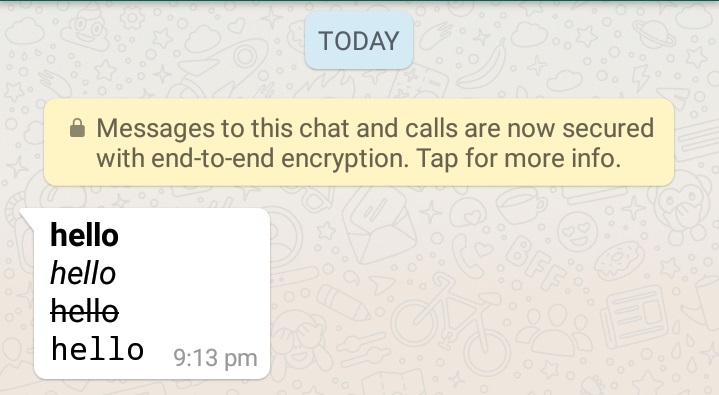 3.Share Your WhatsApp Status With Selected Contacts:
Like Instagram, Whatsapp has status sharing feature. It let you post and share image, text, and videos that are visible to all of your contacts by default. However, many of us may not know that Whatsapp also lets its users choose the list of contacts who can view your status. So whenever you want to share your Whatsapp status with some selected contacts, follow these steps below.
Open Whatsapp and go to Settings by tapping on three vertical dots at the top of the right.
Now navigate through Account >Privacy > Status.
After that, you'll see three options those are My contacts, My contacts except and Only share with.
Now tap on "Only share with"
After selecting "Only share with" you will see a list of contacts. Now choose those contacts with whom you want to share your WhatsApp status. Then tick on it.
Additionally, you can also hide your WhatsApp status from selected contact by tapping upon My contacts except.
4. Disable Last Seen:
There are a lot of things to love about WhatsApp, but it has its downsides too. Downsides like its Last seen feature which lets everyone know exactly when you were online, and when their messages reached you. Eventually, It can crap your privacy. However, you can disable last seen status manually. To do this:
Open WhatsApp and go to Settings > Account > Privacy > Last seen.
Now a pop-up menu card will appear on your screen which showing three options, those are Everyone, My Contacts, and Nobody. Where Everyone means your last seen status can be visible to all, My contacts means your last seen status can be visible to your contacts list, and Nobody replies that no one can be able to see your last seen status. Now choose whatever you want.
5. Group Video Calling:
There was a time when we have needed a third-party app like Skype, IMO for the group video calling. But recently WhatsApp itself launched "Group video calling" feature. Though there is some limitation like you can't add more than four contacts at a time yet the calls are end-to-end encrypted which makes it further secure. To try it
Firstly you have to select a contact from your phone and place a video or voice call to the selected user.
After the call was connected, tap on the Add button that lets you add more contacts in the call.
6. Create Chat Shortcut:
This is one of the nifty features of Whatsapp as it let you create chat shortcuts for your favorite contacts on the home screen of your Android phone. Therefore you don't have to scroll through the list of chats to find your favorite one. Also, another interesting thing about this feature is that you can access the entire chat from chat shortcut without opening the apps. Hence this chat shortcut is very useful especially for those who use Whatsapp frequently to chat with some groups or contacts. To create a chat shortcut:
Open Whatsapp and find the contacts or groups those you want to create shortcut.
Now long tap on the chat corresponding to that contact.
Tap on three vertical dots at the top of the right corner.
Tap on Add chat shortcut that allows creating a chat shortcut on the home screen of your Android phone.
7. Pin Chat:
This is similar to chat shortcut which also eases the accessibility of chat windows of your favorite contacts or groups. Using this feature you can pin up to three of your favorite contacts or group at the top of the Whatsapp chat page. To pin a chat
Open Whatsapp.
Tap and hold the chat you want to pin.
After a long tap on the selected chat, a Pin icon will appear on the top navigation bar.
Now tap the Pin Icon. After tapping upon the Pin icon, the chat will be pinned at the top of your chat list.

To Unpin, do the same step again.
8. Share Real-Time Location:
You might have used Whatsapp location sharing features already. Though this feature granted only static location sharing, the newly introduced "Live location feature" wipe out this limitation. Using this feature you can share your real-time location with friends, family members, or groups. Also, this feature lets you control whether and how long you want to share your location. To try it
To stop this open the chat or group and tap upon Stop sharing > Stop.
Note: While you sharing your real-time location, you may need to enable location permission for WhatsApp on your Android phone. To enable this, go to Settings > Apps & notifications > Advanced > App permissions > Location > Turn on WhatsApp.
9. Delete Message:
Whatsapp introduced "Delete For Everyone" feature last year. Where the users can delete the send messages for both sender and receiver. Therefore, If you send a message to someone mistakenly, it may be a useful feature at that time. Notably, Whatsapp set 68 minutes and 16 second time limit for it. To delete a send message for both:
Long tap on the message that you want to delete.
Then tap on the delete icon on the top of the navigation bar.
Now tap on Delete For Everyone.
10. Optimizing Data During WhatsApp call:
This feature of Whatsapp helped to optimize the data usage during voice or video call. As a result, it makes voice and video call more reliable. At the same time, it reduces data consumption. To optimizing data:
11. Starred Message:
This is like creating bookmarks of your favorite chats which allows a user to mark and separate some important messages from the pile of chats. Therefore, it will help you to find out those important messages easily and quickly.
To Star a message, you need to long tap on a message and then tap on Star icon on the top of the windows.
Now to see the list of starred messages:
Open Whatsapp and Tap on the Three Vertical Dot on the top of the right.
Then tap on StarredMessages.
12. Find Who Read Your WhatsApp Group Message:
Sometimes you may need to know who has read your Whatsapp Group message. Because of curiosity or the message is an important one!!! whatever the reason might be, Whatsapp provides an easy way to know this
Tap and hold the message you send on a group.
Tap on three vertical Dots > Info

Now you will be able to see the status of your message, like a list of contacts where your message was delivered, who already read your message, etc.
These are the 12 Rare Known Features Of WhatsApp for Android. But this is not the complete one because Whatsapp is so embracing more and more new features consistently. So if you know any other secret feature then comment below.