One and half-decade ago, blogging was like driving a car on an empty road. Those days, rank your piece of content at the top of Google search didn't need much effort like keyword research, link building, off-page and on-page SEO, etc. But as time goes, blogging has been getting more and more crowder. As a result nowadays, being a successful blogger is very tough and time-taking as well. For this reason, many bloggers find it difficult to sustain after few months from starting their blogging journey. Though there are many ways that you can earn money quickly through blogging. Event blogging is one of the examples of this.
Generally, event blogging means creating content related to a specific event and get a large amount of organic traffic during this day. But you have to work at least 60 to 90 days for this. However, there is also another type of event blogging i.e sharing whishing scripts.
Event blogging through sharing wishing script can generate 1000$ revenue without any SEO, backlink and keyword research. You only need to install the script on your domain and share it through Whatsapp as much as you can. In this post, I will share how to download and install happy new year 2021 wishing script for blogger blog and WordPress.So without further ado, let's get into it. Also here I will give you the pro script download link for free.
Requirement:
For Happy New Year 2021 event blogging through Whatsapp script, you need the below things
Adsense approved domain or sub-domain

Whatsapp script

Hosting (Google blog or any other hosting where you host your website)
What If You Don't Have Adsense Approve Domain:
Google AdSense is probably the biggest advertise publisher in the world. But getting AdSense approval for your website is not easy. So, if you don't have AdSense approved domain then what can you do in next?
Well, many reliable ads publishers are present there in the market those can give you instant approval. Hence, if you want to earn money through the happy new year 2021 wishing script without AdSense then visit the below link, sign in and put ads code on the script and go.
How To Download Happy New Year 2021 Script:
Download the Happy New Year 2021 wishing script from the below link
Download the Happy New Year 2021 pro wishing script from the below link
Features:
Good looking and dynamic

Created by using HTML, CSS and JAVA Script

Fully responsive (easily viewable on both mobile and laptop)

Support AdSense responsive advertisement

Support GIF, MP3

Easily editable
How To Customize Happy New Year Whatsapp Script:
Before installing the Happy New Year 2021 pro wishing script on Blogger or WordPress you have to customize it. For this extract the downloaded .zip file first. Then go to the extracted folder and open "index.html" file on any text editor like notepad or notepaad++
Put AdS Code:
To put AdSense or any other ads code, press "Ctrl+F" together and find "<!–Paste Your Ads Code Here–>" by typing it on the search bar. After that paste the code in place of it
Put Your Url:
Search the term "http://yoursite.com/" and replace it by your website URL.
Add Favicon:
To add a favicon or your logo search and paste your logo or favicon URL in place of "###".
Additionally, you can also add your images, gif or mp3 file.
After completing the customization save this as .html format.
How To Install On Blogger Blog:
To install Happy New Year 2021 pro wishing script on Blogger blog follow the step given below
login to your blogger account and choose the domain where you want to install the wishing script.

Navigate to "Theme" option.

Click on the triangular sign beside "CUSTOMIZE".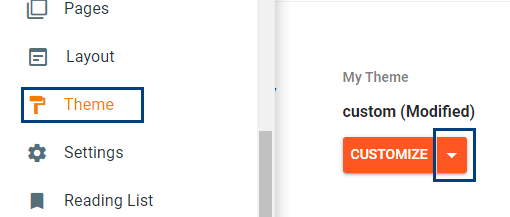 Then click on "Switch to first generation Classic theme".

Now you will see a pop-up window where they ask whether you want to continue with or without backup. Choose as you want.
Then click on "EDIT HTML"

Select all the code inside the editor box by pressing "Ctrl+A" and delete it by Backspace.

Now copy the script and paste on the editor box and save this.

After that go back to the previous page and click on the triangular sign beside "EDIT HTML".

Click change Change NavBar and Off it.
Now Happy New Year 2021 wishing script is ready to share.
How To Install On WordPress:
WordPress users can install "Happy New Year 2021" wishing script either on the main domain or in the sub-domain. For both case the process are same.
Note: Before performing the further process, take a back up of your existing data.
Login to your hosting provider

Go to file manager and Open cPanel

Open domains folder and then open the folder named with the specific domain or subdomain where you want to install the script.
Example: Suppose you have multiple domain and sub-domain within a single hosting then after opening the domain folder you will see the list of all domain and subdomain, so you have to open the particular domain folder where you want to install the script.
Now open public_html and delete all the previous data.

Upload the early customize index.html file and style.css file and then save it.

Close cPanel.
You are done.
Conclusion:
The amount of money you will be able to earn from this type of event blogging depends on how attractive your script is and how much you share this script.
Another thing is that if you install the Happy New Year 2021 script on your existing domain then your previous content will be no longer visible until you restore it. However, if you don't want this then you can use sub-domain instead of your main domain. In the next post, I will share how to create sub-domain and run ads on it. So stay with us.