Internet has been around there for more than a half-century. But since the last decade, it has gone through massive growth which made it the most quickly and widely adopted technology across the globe.
Nowadays the internet is so powerful that you can do almost everything thing just in a few click, literally. Though the internet has made our life easy and fast, still internet security is like the darkness reigns at the foot of the lighthouse for common people like us.
Yes! many free and paid tools are available in the market to protect you from online theft. But VPN or virtual private network is one of the most widely used internet security tools all around the globe. In this post, I will guide you on how to set up a free VPN connection on Windows 10 using PPTP and OpenVPN protocol.
What Does VPN Do:
You probably heard about Internet protocol aka IP address. Every device connected to the internet has a unique IP address. This IP address is used to determine the communication channel over the complex network. That means whenever you try to browse or download something on a device, the IP address identifies and established a path between your device and the source or host.
Generally, the IP address carries information about your online activities. Therefore, anyone can get valuable information like password, secret PIN, chat conversation etc. by tracking the IP address.
Internet service provider(ISP) assigned IP addresses for every device. Though these IP addresses are protected by firewalls but the information transmitted through IP address is not encrypted which increase the chances of security breaches.
VPN mask the original IP address and allocate a new one for the device connected to the VPN server. Additionally, VPN also encrypted the information transmitted through IP channel. Hence, using a VPN can enhance the security level of the internet connection.
Advantages And Disadvantages Of VPN:
Like any tools, VPN also has its advantages and disadvantages, these are given below
Advantages:
VPN protect user's privacy

Enhance internet security

Allow to access geo-restriction content

Prevent bandwidth and data throttling
Disadvantages:
VPN doesn't compatible with all computing platform

It can slow down the internet connection

Internet connection drop

Sometimes free VPN can be harmful
Set Up VPN Connection On Windows 10 Using PPTP:
PPTP stands for Point To Point Tunnelling Protocol which is used to implement TCP control virtual private network channel over the public network. This protocol was developed by a vendor formed by Microsoft. Therefore, being a native VPN protocol of Microsoft, Windows 10 comes with the inbuilt facility to establish a VPN connection using PPTP. However, for setting up a VPN connection using PPTP on Windows 10, you have to create a VPN profile first.
Open Windows Settings and heads to Network & Internet
Click on the "+" sign beside Add a VPN connection
Now keep the VPN provider as "Windows(built-in)"
Put any name you want on the Connection name box
Now go to the internet browser and open www.vpnbook.com
Navigate to PPTP and copy the server address as you want
Now paste it on the Server name or address box(inside the VPN connection windows)
Choose VPN type as Point to Point Tunneling Protocol(PPTP). Also, enter the username and password as mention on vpnbook.com
Click on Save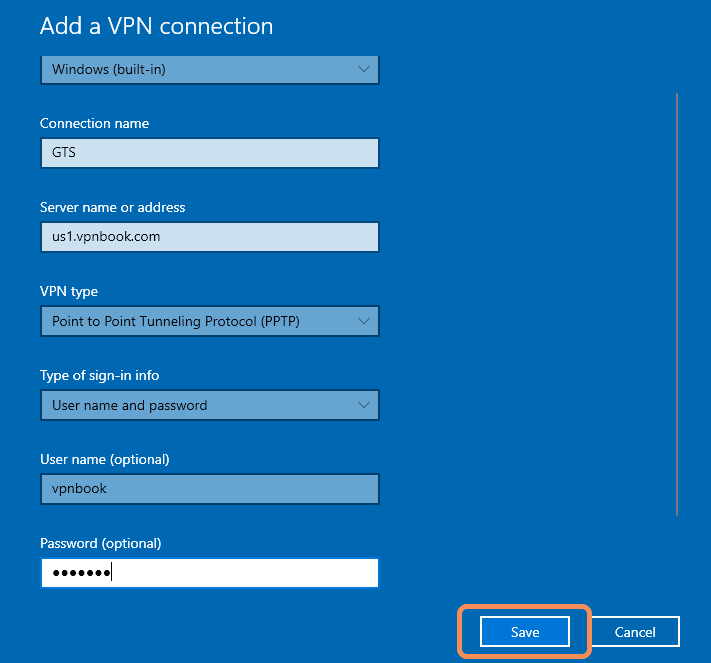 Once you have successfully created a VPN profile, you are all set to deploy a secure VPN connection on your Windows 10 device. To do so
Open Windows Settings again and then navigate to Network & Internet > VPN

Then click on the VPN profile that you create early

Now click on Connect
Boom! your device is now successfully connected to the internet via VPN.
Set Up VPN Connection On Windows 10 Using OpenVPN:
Unfortunately, Windows 10's built-in VPN feature does not support OpenVPN, one of the standard secure VPN protocol. Therefore, to set up a VPN connection on Windows 10 using OpenVPN protocol, we need to use third-party software called OpenVPN installer.
Setting up OpenVPN connection on Windows 10 include three steps those are-installing OpenVPN, importing the OpenVPN client file and then established the VPN connection.
Also Read: Tips To Speed Up Internet Connection In Windows 10
A. Install OpenVPN Installer:
To install OpenVPN installer on Windows 10, you have to download the installation file from the link.
After downloading install the file on your device.
B. Import OpenVPN Client File:
Once you install OpenVPN, you need to import OpenVPN client file before established a VPN connection on Windows 10. To import OpenVPN client file 
Open the link
Navigate to OpenVPN section and download the .zip file, also take note of the username and password mention on the website.

Extract the .zip file (Remember the file location).

Now go back and click on the Overflow icon on the right side of the taskbar.

Then right-click on OpenVPN icon.

Again click on Import file, this will open Windows File Explorer.
Now navigate to the folder where you extract the OpenVPN client file and then select a file and click on Open.

Repeat the same and import all of the extracted client files.
C. Established VPN connection:
After successfully importing the client files, right-click on the OpenVPN icon and navigate to the imported client file then click on Connect.
A pop-up window will open where you have to type the previously noted username and password.

Now click on Ok and wait for a few seconds until the VPN connection established.
If you will see a green-coloured OpenVPN icon then the VPN connection is established on your device successfully!
What Are PPTP and OpenVPN Protocol:
After seeing PPTP and OpenVPN protocol, you might have a question in your mind i.e what are these protocol or how do these protocols work?
Well, let me tell you that understanding these VPNs and their working methods in-depth needs to come across lots of technical terms which may be beyond your wits' end. So for the time beings lets have a look at the general overview of these VPN protocols.
Both PPTP and OpenVPN protocol are used to establish a secure and cryptic private connection between the host and client over the public network. However, the technique used for establishing the connection and cryptographic process are different in these protocols.
In PPTP the connection is established thought TCP port whereas OpenVPN connection is established through transport layer protocol, ex-TCP and UDP.
PPTP uses Microsoft Point to Point Encryption(MPPE) to encrypt and decrypt the transmitted data through private networks. MPPE use RSA or asymmetric encryption and decryption algorithm in which two key i.e private key and public key are needed to encrypted and decrypted the transmitted data.
On the other hands, data transmitted through OpenVPN protocol is likely encrypted and decrypted by using the AES algorithm. AES or symmetric cryptographic algorithm use only one key to encrypt and decrypt the data at both ends.
Now you might be thinking that which VPN protocol should I use for the VPN connection on Windows 10?
PPTP Or OpenVPN:
Both PPTP and OpenVPN protocol have many positive and negative factor. However, OpenVPN is one step forward than PPTP in terms of security because of its strong encryption. Though, this strong encryption causes more connection drop than PPTP.
PPTP can run on a few computing platforms though the setup process is easy. On the other hand, OpenVPN can run on many computing platforms.
OpenVPN is a bit faster and can easily bypass the firewall.
So OpenVPN is my recommendation for the secure VPN connection on Windows 10.