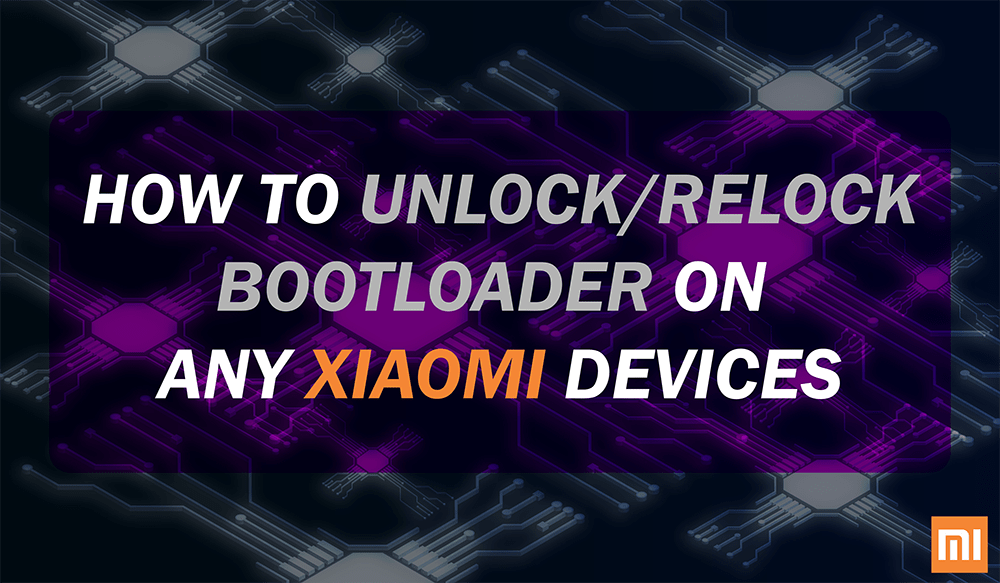 Most mobile phone manufacturers lock the bootloader to ensure the best security for their users. Though, a locked bootloader does not let the users exploit the full potential of the android device. For example – you can't install the latest android ROM, remove bloatware, over-clock or under-clock CPU and so on. Therefore, if you want to explore your android device up to its full then you have to unlock the bootloader first. Therefore, in this post, I will show you "how to unlock and relock the bootloader of any Xiaomi devices".
Also Read: How To Uninstall System Apps From Android

How To Unlock Bootloader Of Any Xiaomi Android Phone:
Xiaomi itself provide an official way to unlock the bootloader for the users. However, to unlock the bootloader of Xiaomi devices, you must have a computer and also you need to follow a set of instructions given below.
Note: Unlocking the bootloader can wipe all the data from your smartphone so take a backup before unlocking the bootloader.
Creating a Mi account is the first step to unlock the bootloader of your Xiaomi smartphone. For doing this, go to your phone Settings and navigate to the Mi account and then submit the information asked by the manufacturer.
You Can Read: How To Unhide,Enable,Disable and Hide Android Developer Options
However, If you have an existing Mi account then you can skip the first step. Also if you create Mi account for the first time then note down the Id and password.
After creating Mi account, enable Developer options and then navigate to Additional settings>Developer options
Then enable OEM unlocking and USB debugging and then click on Mi Unlock status
Now tap on Add account and device. Make sure the internet connection is active on your Xiaomi device during this process. Also, you may be asked for permission, if so then tap on Agree.
Once you are done, go to your computer and download all the files from the given link below
Now run ADB setup and press y followed by Enter until completing the installation process.
After that install Mi setup
Unzip miflash unlock and then open the extracted folder
Find batch_unlock.exe inside that folder and double-click on it.
Sign in using your Mi account Id and password(Make sure your computer is connected to the internet)

Now connect your phone with the computer using a USB cable (at that time allow USB debugging on your phone)
Put your phone on Fastboot mode by pressing the Power and Volume down button together.

Once you put your Xiaomi device on Fastboot mode, your device will be listed on the Unlock Tool like below.
Now click on Unlock and wait for a few minutes to restart your Xiaomi device
Boom!! the bootloader of your Xiaomi device is now unlocked. You can recheck it by using ADB command.
Also Read: How To Check The Bootloader Status Of Your Android Device Using ABD Commands
How To Relock Bootloader Of Any Xiaomi Devices:
Though, unlocked bootloader gives you more privilege over your android device. But, you might have faced some security issues as an unlocked bootloader disable the android encryption feature. Additionally, it voids the warranty provided by the manufacturer. So, if you want to relock the bootloader to revert the warranty and secure your Xiaomi device, you have to follow the instruction given below.
Note: You can also relock the bootloader after installing custom ROM
First of all, you need a computer to relock the bootloader of your Xiaomi phone.

Also, you should install ADB setup and Mi setup on your computer(download link is given above) before proceeding into the further process of relocking the bootloader.
Download PLATFORM-TOOLS.zip file on your computer from the below link.
Connect your Xiaomi device with the computer using a USB cable(Make sure USB debugging is enable and you are allowing USB debugging).

Unzip PLATFORM-TOOLS and go inside the folder.

Type cmd on the address bar of the windows explorer inside that folder and press Enter.
Now type each command on the Windows command prompt and press Enter.
adb devices

adb reboot bootloader

fastboot devices

fastboot oem lock
Once you type and enter the last command, the bootloader of your Xiaomi phone will be locked and restart automatically.
That's it for this tutorial. If you face any problem while unlocking or relocking the bootloader of your Xiaomi smartphone, please comment below, I will reach you ASAP. Finally, if you find this article useful then don't forget to share it with your friends.